Published Jan 13, 2014 | Comments 0
Workforce Partners Management Group, LLC and CampusJobXpress are celebrating 25 years of service and are offering 6 months of complimentary services. Job seekers can create their own web page where they can upload their resume, a photo, Summary of Qualifications as well as a Video Resume.
For more information email us at info@campusjobxpress.com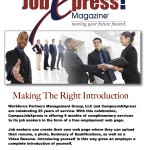 Filed Under: Job Club • Job Club Alamo Area • Job Club Capital Area • Job Club Heart of Texas
Important: After you comment you will receive an email notification each time a new comment is added to this page.
You can easily stop receiving these emails at any time. The bottom line of each email you receive will include a "Manage your subscriptions" link. Click this link to unsubscribe or change your settings.


Unless you already subscribed to this article you will see a drop down menu under the "submit comment" button. To comment without subscribing, you must use that menu to change "All" to "Replies to My Comments" or "Don't subscribe".


If you are already subscribed to this article, the link to manage your settings will appear at the bottom of this page, under the "submit comment" button.