Beginning January 1, 2013 CampusJobXpress.com starts its countdown to graduation.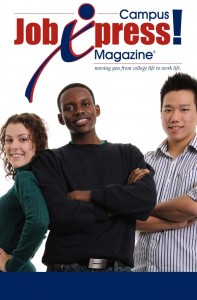 CampusJobXpress.com (CJX) was developed to serve college students as they approached graduation. Many students finish their education with a degree, certification or license, plus a loan to pay back. Finding a job becomes paramount to start their new life off correctly. Also, CJX has discovered that its services fit many laid-off workers and veterans as well.
CJX combines many services that you will find on other sites, and much more. The combination of services truly allows convenience and efficiency. This site appears as a job search magazine; however, it houses much more with even more to come. What is on the site, you might ask? Well, let's see:
EMPLOYMENT AND TRANSITIONING ARTICLES
Our online magazine takes pride in its encouraging and informative career-based articles posted each month.
EMPLOYMENT – LIST OF JOBS AVAILABLE BY REGION
Employers are able to post job openings in detail for subscribers to view as often as needed, all with our compliments. These listings are posted by workforce regions within the state. Employers are allowed to post as much detail as they feel is needed.
JOBS BY INDUSTRY
CJX offers employers a specialty page categorized by industry types. On these specialty pages, employers can provide a detailed explanation of their company's history, benefits and special instructions with hyperlinks to their company. It is an opportunity for businesses to really open up to their future employees. This page offers full color appeal to attract the best candidates.
500 WATCH – RSS FEEDS TO EMPLOYERS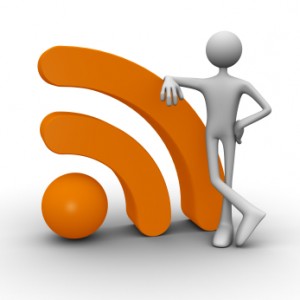 The magazine is linking to News RSS Feeds of the major employers from around the country (Fortune 500). An RSS Feed is a regularly updated summary of web content, along with links to full versions of that content. These feeds have the option to link company webpage news to our magazine so that all up-to-date news can be seen by our subscribers at any time. The Feeds are controlled by the companies and may change at any time.
HELPING HANDS
If subscribers are looking for internships, on-the-job training or volunteer hours, we have a specific area which allows the students to post their availability and what type of volunteer work is being sought. Employers are also able to post openings for internships or volunteer needs. Work experience is critical for most of our subscribers to gain much needed experience in selected fields.
OUR BEST
In this section of the magazine, CJX showcases the most outstanding or top-qualified employment candidates. These candidates are referred by their school, organization or workforce agency. Subscribers with extensive experience, degrees and skills can be at the top of the employers review list through Our Best Section.
RESUME CHAT ROOM
Resumes are very important for candidates to showcase their skills. CJX asks its employment candidate to detail a summary of qualifications with a full description of employment and educational history. This section allows for communication with a Resume Expert reviewing their resume with possible suggestions and tips.
VIDEO RESUME POSTINGS
Subscribers can post video recordings of themselves discussing what makes them a valuable employee candidate for employers to review. As important as a resume is to finding the appropriate job, a video resume allows for a candidate to set themselves apart from other candidates. Anyone can do your resume, but only you can do your video resume. Your are able to display personality and project yourself with the video resume. Subscribers are given a link to place on their resume for ease of viewing by employers.
VIDEO CHAT ROOMS WITH EMPLOYERS
If employers wish to interview subscribers, but for any number of reasons cannot see the subscriber in his/her office, employers and subscribers are able to engage in video interviews through a Video Chat Room.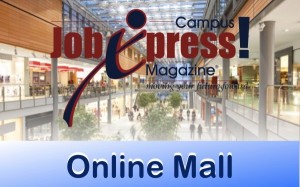 JOB CLUB
Job club is a weekly online discussion open to everyone. Subscribers and employers may communicate about different topics each week. Content, questions and answers are open for discussion 24/7. Many questions are referred to experts on any particular topic for appropriate response. Job information is shared by subscribers with one another allowing for a vast network to aid with job searching.
ONLINE MALL
The CJX Online Mall Service is an attempt to give subscribers opportunities which may not normally be offered to them. CJX Representatives visit with businesses to locate opportunities for food specials, movie tickets, auto repair, clothing and much more.
There are times when businesses have over purchased or their business may need a boost. Our Online Mall allows for businesses to advertise their company, specials, and locations to attract subscribers. Subscribers can then find the nearest place to grab a bite to eat or see a movie and check any specials available.
REWARDS CARD PROGRAM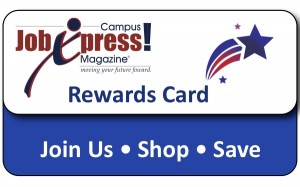 Through our Rewards System, a business may post specials on our website for subscribers to redeem when the Rewards Card is presented at participating locations. Businesses are allowed to change specials as often as necessary and place a hyperlink to their webpage.
REWARDS CARD/ONLINE MALL
CJX added an Online Mall and Rewards Cards to give opportunities to its subscribers to receive various deals and specials. The thought is to provide a connection between the people we serve and the business community.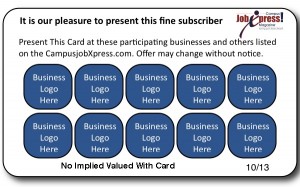 Many businesses have a need to connect to customers by offering them specials and deals during any particular slow-down times and over-purchases. This benefits our subscribers who may be on a limited budget but still want to go to the movies, eat out, buy clothes or just have some fun.
Both businesses and subscribers benefit from this arrangement. This Rewards Program is not new. It is very likely that you have seen programs similar to this in hotels.com, expedia.com as well as other sites. They market hotel rooms, airline seats, etc that have not sold. Why not give subscribers the same opportunity? The card is free. The offers can change many times a week and there is no obligation on the part of the cardholders. If they like it, they can use it.
VETERANS SECTION
Our Veterans Section concentrates on the needs and specific information concerning Veterans during their job search efforts. It is a place for Veterans, their families and other interested parties to connect and communicate.

WPMG NETWORK
Workforce Partners Management Group's traditional site to help individuals move their lives from where they are to where they want to go. These services have helped many military personnel, dislocated workers, students and anyone transitioning to a new way of life. On this site, the WPMG Network offers books, videos, podcasts, seminars as well as a few cooking classes. △