When most people think of customer service they think of sweating away in a fast food restaurant or maybe sitting on the phone in a cubicle eating Cheetos. That could not be further from the truth!
Customer service is exactly what it sounds like, providing service for customers. When you walk into a business of any type, you expect at the very least to be greeted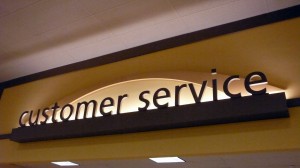 and treated with respect, and rightly so! When you leave said business, you expect to have all of your needs taken care of within reason, and as a customer, you should. Not only should you expect this, you should also be giving this. As a Customer Service Rep, you were hired to make money or solve a problem, not lose money and cause problems.  So, we here at CampusJobXpress have a customer service cheat sheet to help you on your way.
Use Common Sense. You should strive to treat people as you would want to be treated. If you expect someone to do anything they can to make your visit worthwhile, then, you should be willing to do the same. Granted, there are people who are naturally rude, but as an employee, you should do your best not to sink to that level. Continue to smile. It is not worth it losing your job due to a rude or disrespectful individual. Just take a deep breath and continue to use the Golden Rule where applicable.
Be Responsive. If someone asks you a question, sends an e-mail or makes a phone call, do your best to answer it or find someone who can give them an answer. You are providing a service that someone wants, and you run the risk of losing business by not providing it. Even if you don't provide that particular service, you can help them find another department or politely let them know you don't provide that service at this time.
Make It Easy To Contact You. It is never remiss for you to make business cards. Maybe you have a specialized service, or maybe you can answer questions or resolve issues with ease. By making yourself easy to contact, you make it easier for people to see you as an expert when something is going wrong. This means more customers and more contacts. It's a win/win for everyone involved!
Listen. I cannot stress enough how often I have asked a customer service person, a lawyer, a CEO, or a fast food worker a simple question and an attitude suddenly appears out of nowhere. Keep in mind that not everyone knows the answer to even the most basic things. If they knew these things, they wouldn't need to come to you. It shouldn't be a bother to do your job as well as to listen for a few minutes. You may not have the answer, however, you can direct them to where the answer can be found. Listen to the complete problem, repeat it for understanding, and ask questions for clarity, then find a way to solve it. It's that simple!
Adapt. As stated above, customers have all sorts of questions. So when they come into your place of business, you need to be open to helping them, however you can. Let them lead and see where they need to go with each interaction you have with them. They may only need a small part to a piece of the puzzle. Don't try to sell them the whole puzzle. This may be hard if you work on a sales job, so it's recommended to do as your guidelines dictate, but do them within reason. You will get more repeat business by doing what the customer wants and needs rather than by giving them things they neither need or want.
Embrace Social Media. LinkedIn, Facebook, and Twitter. All of these things are tools that you need to get get familiar with and use. If you don't know how, find a class, a student, a second cousin, maybe even a daughter or grandson (if you're lucky enough to be a grandparent) to help you navigate your way through the electronic jungle. You can notify people of sales, maybe suggest upcoming events, or just keep them abreast of what's going on. It's just another way of making yourself accessible to customers.
Honor Your Word. Your word should always be your bond. If you tell someone that you are going to do something, then, by all means and by all cost, you should do it. Things do happen, and if you can't honor your word, then you need to apologize profusely and find a way to rectify the situation as soon as possible. This builds trust with your clientele and it  keeps them coming back to conduct more business.
Remember. You are the representative of your company. What you do during your on-the-clock hours directly affects what people think of your company when they are away. Provide customer service, and being polite can go a long way to make everyone feel at ease. It doesn't matter where you work, customer service is always acceptable and very much needed and appreciated! △