When preparing for a job search, what are the appropriate steps to take? What do you have to do to get ready? What items should you put together for purpose of ease? How should you conduct this job search? All these questions come to mind when you get out there trying to find that perfect job for yourself.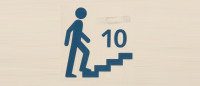 There are ten steps to easily follow from the book Ten Steps To A Job Search from ADAPT Publishing Company.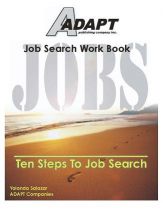 Pay attention to this format because it is a very simple process, but if executed correctly, it can lead to a successful job search.
Step 1: Accept the Job of Finding a Job
Plan out the types of of jobs you would like to do. Write down the skills required. Then, write down your thoughts and goals with the jobs you find that fit you and your needs. Write down the date the job offer closes so you don't miss it; put multiple reminders in your phone and jot it down in multiple places so you can be reminded.
Step 2: A Winning Attitude
Have a positive attitude while searching for jobs. Make sure your mind always says, "I am successful and I am smart." Don't sell yourself short. Make sure you stay confident and strong-willed. Do NOT let anyone tell you that you can't do it because you can.
There are 18 tips for powerful ways of approaching your job search:
| | | |
| --- | --- | --- |
| 1. Be curious | 2. Be confident | 3. Be gutsy |
| 4. Be prepared | 5. Be and feel challenged | 6. Be connected |
| 7. Be frugal with your time | 8. Be fearless | 9. Be friendly |
| 10. Be easygoing | 11. Be creative | 12. Be active |
| 13. Be diligent | 14. Be proactive | 15. Be positive |
| 16. Be promotable | 17. Be sellable | 18. Be successful |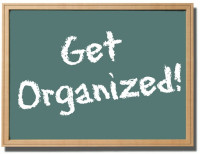 Step 3: Get Organized
Being organized while searching for a job is very important. This is true, not only while searching for a job, but more importantly, when you get hired for the job. While job searching, create a To Do list to help you keep up with what you need to do in order to find that job. As you complete the things on your list, you should check them off, so you know what has been completed. For the things you weren't able to complete in that day, start a new list for the next day, and start it off with the ones you weren't able to complete the day before. This way, you won't leave anything undone.
Keep a daily record of jobs you find with notes for each one to help you remember which jobs had more benefits than others or which jobs would be a better fit for you. Also on this daily record, keep track of contacts and phone numbers to help you stay connected.
Step 4: Target What You Want
As I said before, look for the jobs that you would like to do and want to do. Getting a job you don't enjoy or a job that you have no passion for will make it harder for you to be motivated or even want to go to work. Always research the job and read up on it to make sure that is the job you really want. Don't just jump in for the money; make sure you are going to enjoy that job and give it all you've got. Make sure it's the right fit for you. Use the internet and keep track of everything you research on the job as well as the company.
Step 5: Discover Leads
Keep your lines of communication open to everyone you know and ask them for help in searching for a job. Ask them (family, church members, former co-workers, etc.) if they know of any open job openings or places you can check out.
Step 6: Create A Network
Job searching requires you to establish a network — a network of people, agencies, resources, internet, social media and anything else that will assist you in finding your perfect job.
 Step 7: Produce Great Materials
By materials, we basically mean, write a great and successful resume Use the following tips to help you:
Use the following tips to help you produce your resume.
1. Carefully prepare what you want to say or present.
2. Use a format best suited to make your resume say its best about you.
3. Use a format which will be easy to read by the potential employer.
4. Carefully check and correct any all errors.
5. Use very good resume paper for printing and/or copying purposes.
6. Use a format that will make your resume look appealing.
7. Read your resume out loud to test its impressiveness.
8. Be specific, accurate and truthful while presenting yourself in the best light.
9. Match your experience and qualifications to fit the job(s) for which you apply.
10. Learn all you can about creating a resume by reading a book, taking a class, researching the internet or seeking the assistance of an expert.
Step 8: Make Contacts
Design contact sheets for yourself. These sheets can contain information on individuals who you speak to on a daily basis or people you know who may be able to help you. Maintain a list of their name, address, telephone number and e-mail address for ease of contacting them. You may also be able to keep little notes about what job they referred you to or what company they told you to research. This way, when you do your references, it's a breeze in filling out your reference page.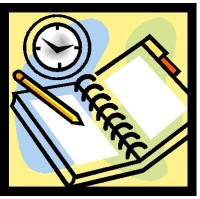 Step 9: Stay on Schedule
Applications and contacts should always be followed up with requests for interviews. You have a lot to do in planning and scheduling your job search. Find the time to create a Daily Action Log as well as your follow-up information. When filling out your applications, it's very important to remember things you've done and when you've done them.
Step 10: Give A Great Interview!
You make think you're done after all that, but you have one more step. Your interview! Go into your interview with confidence and a big smile. When you are greeted, give a nice firm handshake, not a floppy fish handshake. Walk with your back straight. Sit tall with your back nice and straight, but look relaxed. Make eye contact and be honest. Most of all be you and you will do great!
These steps are excerpts from Ten Steps To A Job Search by ADAPT Publishing Company. To read these steps on a more thorough basis, go to campusjobxpress.com and click on WPMG Network and click on Workforce Partners. Scroll down to Books and there you will find, not only the Ten Steps Job Search Workbook, but you will also be able to view and read other books, videos and other services that may be helpful in your job search or even in your life.