The Applicant Pool is here and growing! An Applicant Pool is a source of qualified job seekers and it is here now. A major undertaking is now in progress to recruit applicants and review the resumes of those available job seekers in the New Braunfels  and Seguin areas.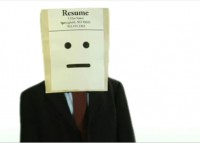 With over 4000 job seekers in this area, according to a Texas Workforce Commission report, CampusJobXpress (CJX), a Workforce Partners Management Group, LLC Company, along with the cooperation of the local Workforce Solutions Offices, local apartment complexes and local community organizations, will reach out to inform all job seekers of the opportunity to be screened for employment in the two cities. Applicants are screened by resumes and applications against basic qualifications in most of the major job categories open in the area. Once a job seeker has been deemed qualified for a job category, CJX asks the job seeker to provide more details of their work experience and work history.
It has been found that resumes tell only a part of an applicant's story. CJX wants to bring the employers more!
As part of its duties, CampusJobXpress has, for the past twenty-five years, screened job seekers for the military, Texas Workforce Commission as a Rapid Response Provider, local workforce boards, housing authorities and many major employers. Our job is to make sure a candidate is ready to work, regardless of the position or job. Celebrating its twenty-fifth year in the industry, Workforce Partners and its companies have made sure job seekers are ready for the tasks at hand.
As part of this year's twenty-fifth anniversary celebration, WPMG, through CampusJobXpress, has created an Applicant Pool. This Applicant Pool will have a long list of pre-qualified applicants, separated into job categories for local employers to choose the candidates of their choice. When asked, WPMG President Melvin Collins, Jr., M.Ed., LPC, relates an analogy of the Applicant Pool this way. "I recently sold a house with a pool and with that pool, I had to maintain chemical level, repair of pool equipment, and remove trash in the pool as well as removing the occasional creature. In my present neighborhood, we have a private community pool which is well maintained, larger pool with life guards and no equipment for me to maintain. And the cost is minimal, as we all share the expense and get much more use out of it."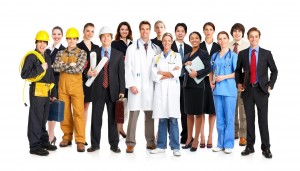 The Applicant Pool works the same way. All area employers are able to participate in the pool, taking as many applicants as they need from the pool in order to fill their open positions. We only ask for open positions to be posted in Work-In-Texas. The relationship with TWC will not change. Applicant Pool services are outside of normal workforce activities; however, all placements will be reported to them. This service is totally volunteer and CampusJobXpress is responsible for the maintenance of the Applicant Pool. No employer is exempt from using the pool. All employers are welcomed to use it, large or small, public or private, including placement and staffing agencies.
Is there a fee for using the Applicant Pool? It was desired to generate support from workforce funds; however, budgets are not available at this time. The need, however, does not go away, therefore, an agreement has been made to go ahead and deliver the service to our customers, employers and job seekers. So, in discussion with a couple of local employers, an affordable fee of $500 (or less) per month with no contract has been set. Employers will use it, as necessary.
E-mails and postcards are going out to every job seeker identified. They will be divided into groups and assessments made to identify those qualified to work in their chosen professions. After the review, each will be asked to take an assessment to determine their level of reading, math and job-readiness potential. All job seekers will be ranked and placed in the pool for consideration. A special designation will appear by those meeting the minimum standards for their position. Job categories/positions will range from professional to labors.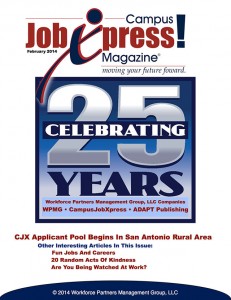 All participating employers are given an access code to CampusJobXpress.com where they will be able to peruse available job seekers with resume, bio (summary of qualifications), a photo and a one-minute or less video. Photos and video are optional, but highly recommended, as resumes no longer tell the complete story of a job candidate. A job seeker showcase can be scheduled for employers and job seekers to meet for convenience's sake, however, employers may see job seekers at their location, whichever is more convenient for both parties.
February 18th is the date! CJX will be doing face-to-face interviews at the New Braunfels Civic Center. Here, all job seekers will have a brief interview with CJX staff to answer questions regarding background issues, additional training, veteran status, daycare, transportation, etc. for the purpose of appropriate placement. Workforce staff will be available to assist with any workforce issues. Depending on job seekers' time and convenience, their photo and video could be done at this same time. If an individual feels they are not ready for this, another convenient time and place can be scheduled.
After this date, employers will have the opportunity of making their selections out of the Applicant Pool. CJX will continue to replenish job seekers into the pool on an ongoing basis.
So, come on out, Job Seekers, and join us on Tuesday, February 18, 2014 at the New Braunfels Civic Center between 9am and 3pm. Be prepared to conduct your short video and come dressed to take a professional photo. We look forward to seeing everyone there. Job Seekers, get ready for those employers and Employers, get ready to make your selections out of the Applicant Pool!!